December 2023
M
T
W
T
F
S
S
1
2
3
4
5
6
7
8
9
10
11
12
13
14
15
16
17
18
19
20
21
22
23
24
25
26
27
28
29
30
31
The O2 Partners With SignVideo To Enhance The Booking Experience For Deaf Fans
Click picture below to view the news in British Sign Language.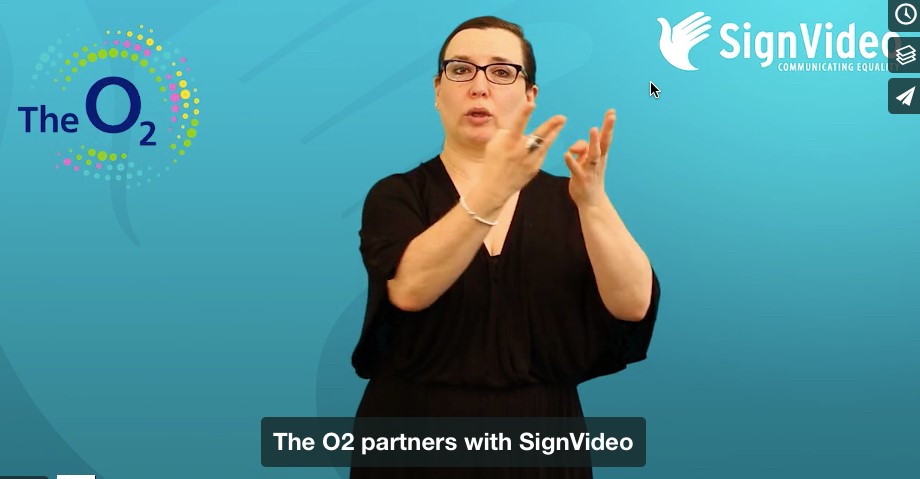 Unique partnership is the first of its kind for a UK music venue
1st August 2016 – The O2 has announced a deal with SignVideo that will bring huge benefits to deaf and hard of hearing customers that use British Sign Language (BSL). From today, fans wishing to book tickets or make enquiries to The O2 will be able to liaise directly with the venue's customer service helpline through a link to SignVideo on The O2 website. This will connect them to a fully qualified SignVideo BSL interpreter who will relay the conversation in real time to The O2 customer service agent. The service is offered free to all customers requiring it.
SignVideo is in addition to the Texttype facility already on offer and a dedicated accessible booking line that handles over 31,000 special access requests annually.
Jeff McWhinney, Chairman and Founder of SignVideo said: "We are thrilled that The O2 have chosen us to help deliver BSL customer services. The O2 are already supporting their deaf BSL customers by offering performance interpreting so it's a natural extension to add customer services in BSL too. Using text based services like email and web chat for customer services actually creates more of a barrier for us deaf BSL users and as a result, we struggle to gain easy access to help when we need it.
I am sure the deaf BSL community will be delighted that they can now contact The O2 in their own language, quickly and easily, and we would encourage other entertainment venues to follow The O2's great example."
Adam Wilson, Head of Customer Relations at The O2 added: "We're always looking to enhance the experience of all of our customers, especially those with specific access needs. Providing the British Sign Language service through SignVideo will enable even more fans to enjoy the shows they love at the best venue. We're delighted to be the first to offer this in the UK."
In addition to the BSL SignVideo service The O2 offers full BSL interpretation of its shows if required by deaf fans.
The London venue has won awards for the services it provides fans and is recognised as a Gold Charter venue by charity Attitude is Everything, who campaign for better access for deaf and disabled concert goers nationally.