December 2023
M
T
W
T
F
S
S
1
2
3
4
5
6
7
8
9
10
11
12
13
14
15
16
17
18
19
20
21
22
23
24
25
26
27
28
29
30
31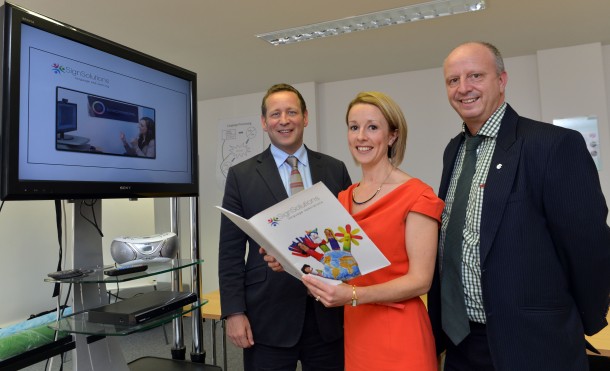 On Tuesday 30th September, the Minister of State for Culture and the Digital Economy, Ed Vaizey MP visited Sign Solutions to learn more about its video relay InterpretersLive! platform.
InterpretersLive! allows Deaf people to access an interpretation service via video link from their desktop, tablet or smartphone and aims to provide them with the same levels of access as hearing people when dealing with communication we encounter every day.
Ed Vaizey, who was in Birmingham attending the Conservative party conference until Wednesday 1st October, is a longstanding campaigner for the Deaf community and has spent years encouraging phone companies to take action on video relay for deaf people.
His visit to the Sign Solutions head office saw him meet with Sean Nicholson, CEO at Sign Solutions, and see behind the scenes how its InterpretersLive! service works.
Ed Vaizey comments: "It was a pleasure meeting the Sign Solutions team yesterday as well as getting to learn about its InterpretersLive! service.
"I would strongly encourage all businesses to adopt video relay in order to improve the accessibility for Deaf people."
Sean Nicholson, CEO at Sign Solutions, said: "Over the last few years, the demand for better access for Deaf people has grown and we believe the willingness of large FTSE companies to make their services more accessible is in no small part due to the work that Ed Vaizey has done in encouraging and promoting the use of these services.
"We were therefore delighted to welcome Ed to our head office on Tuesday and hope that his visit will further raise awareness of improving the availability of services for Deaf people."