December 2023
M
T
W
T
F
S
S
1
2
3
4
5
6
7
8
9
10
11
12
13
14
15
16
17
18
19
20
21
22
23
24
25
26
27
28
29
30
31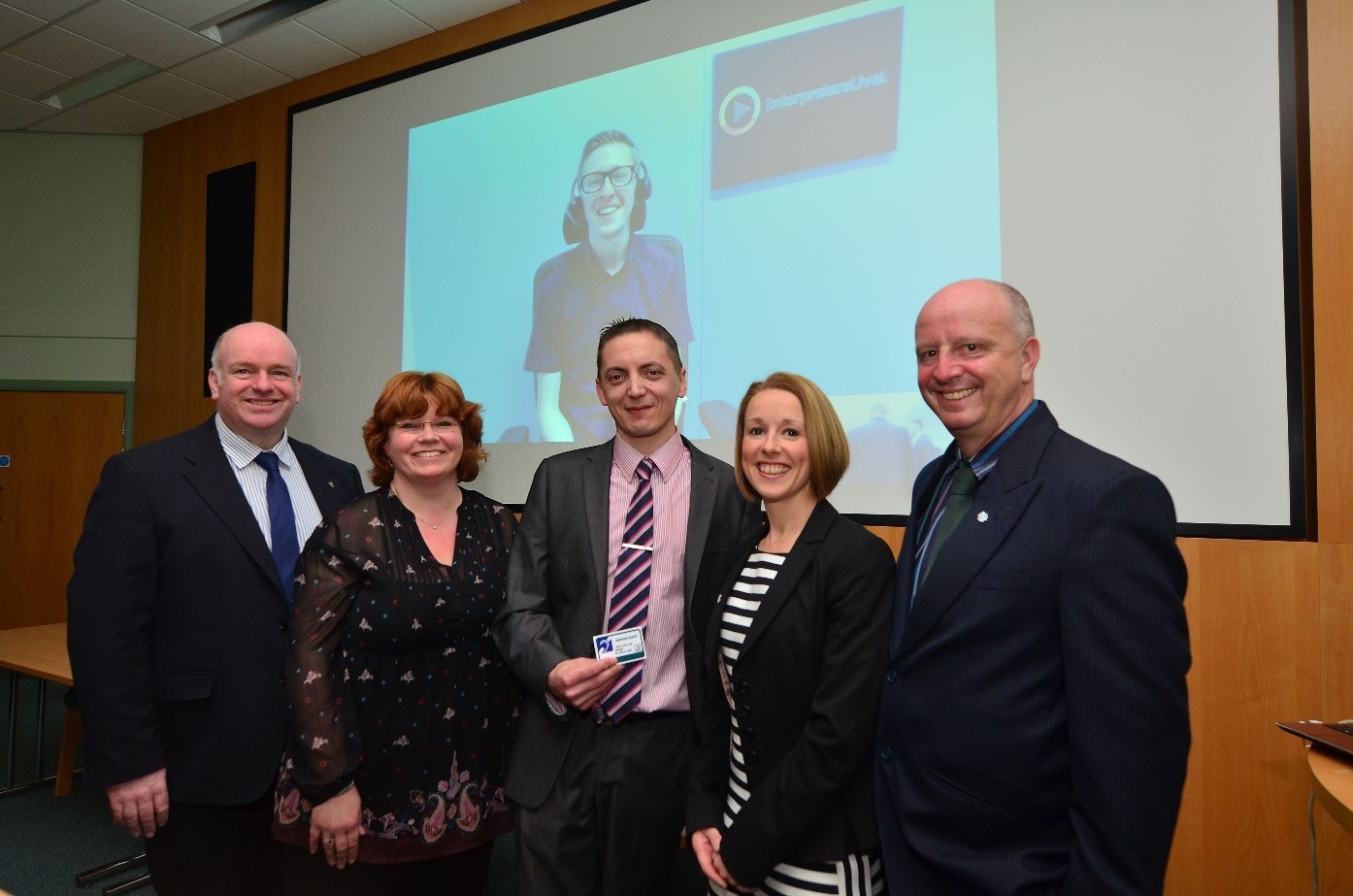 A new sign language interpretation service which uses an online video link has been officially launched at Noble's Hospital. The initiative will provide an improved service for patients who are Deaf as well as offering better value for money.
The service is a result of a collaboration between Noble's Hospital, the Manx Deaf Society, the Isle of Man Government IT Department and Sign Solutions.
The Isle of Man has no qualified British Sign Language interpreters. When members of the Deaf community have medical appointments and require an interpreter, the Department often hires someone to come over from UK, which in the past has cost as much as £1,000. In emergency situations, where there is no time to bring an interpreter to the Island, Deaf patients and staff providing care often find it extremely difficult to communicate effectively.
The new service from Sign Solutions connects to a live sign language interpreter via secure video link over the internet on a PC with a webcam or a tablet computer.
Minister for Health and Social Care, Howard Quayle MHK, said: "We are so often reminded that communication is a fundamental part of good patient care. Whilst we all accept that living on an Island brings with it some unique challenges, it has been a concern that in an emergency situation patients and clinicians can find themselves unable to communicate. This can be very distressing for patients, so I am delighted that staff at Noble's Hospital have been able to identify a solution.
"As well as improving communication during an emergency, we can also use this cost effective service for pre-planned appointments, greatly enhancing care and providing better value for the taxpayer when compared to bringing interpreters over to the Island in person."
Noble's Hospital is the first area of Government to use the video interpretation service, but it is hoped that the scheme could be expanded to cover other departments.
Stephen Griffiths, Head of Audiology at Noble's Hospital, said: "We need to ensure that all patients can communicate with those responsible for their care and vice versa. In the past patients have sometimes brought a family member or friend with them who can interpret and relay information, but this isn't always possible and has the potential to compromise privacy and dignity. This new service is an exciting development that will make lives easier for patients and clinicians alike. Jan Mellows, Corporate Services Manager at Noble's Hospital, has led its development from initial proposal to today's launch."
The formal launch event consisted of a number of presentations on topics such as Deaf culture, the challenges of being Deaf and real life experiences that members of the Deaf community on the Island have experienced when receiving medical care.
Lucy Buxton, of the Manx Deaf Society, said: "This is a very positive development and the Manx Deaf Society has worked closely with staff at Noble's Hospital to take the project forward, assisting with the setup costs.
"Receiving care without the ability to communicate or understand what is happening to you can be a very daunting and frightening experience, especially in an emergency situation. I am pleased that we are now able to ensure proper communication between medical staff and Deaf patients by making use of this innovative and flexible service."
Sean Nicholson, CEO at Sign Solutions comments: "It's no surprise that with 10 million people in the UK having some sort of hearing loss, a growing number of consumer-facing businesses and organisations are recognising the need to provide better access and communication for Deaf people.
"We're seeing more and more sectors enquire about our service, which represents a step towards a more positive future for Deaf people. We hope that other governmental departments across the UK will follow suit."
All interpreters through this service are fully qualified and have been vetted by the Disclosure and Barring Service (formerly the Criminal Records Bureau or CRB) and are bound by the UK Data Protection Act 1998.